MY AGENT OF CHOICE
Working with Chantal has been a wonderful experience. Not only does she have a wealth of knowledge and experience, but she is fun to work with. There is none of the usual real estate agent attitude and ineptitude, but always a straight forward approach, so that both parties know exactly where they stand. Chantal's negotiating skills are second to none, watching her as she gently brings the vendor and purchaser to a point of mutual agreement, is wonderful. Chantal is my agent of choice and I wouldn't think of using anyone else.
(Stephen Akehurst, Designer)
Chantal is an absolute professional and in a class of her own.  Working with her is a joy and her proactive approach, brilliant communication skills and attention to detail takes the stress out of even the most complex transaction.

Chantal also cares and is truly genuine which is rare in the industry.

We will definitely be working with Chantal again.
Chantal is truly in a league of her own, and I could not recommend her highly enough. 

I was lucky to have met Chantal recently when she assisted me with securing my first home purchase in Sydney. Needless to say - this was a completely new experience for me, and I felt out of my depth and overwhelmed at the thought of this enormous undertaking. 

Enter glowing, radiant and capable Chantal. Chantal simply oozes charm and intelligence. She clearly has a natural talent and flair for working in property and real estate, but she is also incredibly calm, nurturing and kind. I had so much trust and confidence in Chantal from the minute I met her. From attending various property inspections together, through to the auction when she was bidding on my behalf, to the wonderful end result which is a whirlwind of celebrations and very real, important paperwork to sort through. Chantal was with me every single step of the way, guiding me and supporting me, and I could not be more grateful for that. 

A force to be reckoned with if you're up against Chantal at the auction, but an absolute guardian angel if she's on your side!
"Exceptional is the one word that fully describes Chantal.

We met when a friend suggested we use Chantal's company to sell our Rushcutters Bay home. It was an absolute joy to work with Chantal, so very professional, caring, excellent communicator and someone who listens. Rare in the world of Real Estate.

Chantal was our buyers broker recently, she is an amazing negotiator and very diligent in her research, not a thing missed.

With no hesitation I could not recommend anyone more highly than Chantal, without a doubt a beautiful star in her Profession and life."
GOES ABOVE & BEYOND
I first met Chantal when she sold me my current residence on behalf of a client.  I immediately felt that she could be trusted and was easy to deal with.  Over the course of dealing with her for the following 18 months on two separate transactions, that initial impression was not only confirmed but I came to regard her with great deal of affection and respect.
I was so impressed by Chantal (and the place she sold me) that I retained her to sell my old residence following my move.  I was even more taken by Chantal when using her as a selling agent.  She went far beyond what I had experienced from other real estate practitioners in Sydney.  Chantal was at all times a pleasure to deal with and, on her initiative, attended to all sorts of things that I either would not have thought of or would never have had the time to do myself given my work commitments.  For example, she took an active role in styling my apartment for the inspection process. Frankly, I have never experienced anything like it in the Sydney real estate agent market.  The result was a beautiful space that led to the apartment being sold prior to auction for a price that I was extremely happy with.  And it was all done with an even temper, grace and humour.  Chantal was a joy to work with even when confronted by my grumpy moments.
I would not hesitate to use Chantal again to sell property for me.  In fact, the next time I decide to do so, she will be the first person I call.  I could not possibly recommend her highly enough.
(Nicholas B).
Chantal not only achieved us an exceptional result but she was our 'rock' during what was an emotional time. She is a rarity in that she genuinely cares about people. We are elderly and she held our hand throughout the process, making it seamless and stress-free. Nothing was ever any trouble for Chantal and she even helped us style, sell our furniture and assisted in our transition to our next home. We could not have done it without her.
If you are in need of an agent to buy or sell a property, I would unequivocally recommend Chantal Hooper. She is a delight to work with; warm, friendly, amazingly helpful and totally professional - absolutely without artiface - it is all real!!
Chantal is unique. In all my dealings with her, there's no standard real estate spiel or generic approach. She thinks intelligently, is stylish and innately understands luxury and people. Combining this with her effectiveness and understanding of other cultures, she is an asset to anyone wishing to sell or purchase.
With a distinguished background and global experience in communications and prestige product markets, Chantal has a sophisticated style that fits easily with exclusive and boutique real estate - vendors and buyers alike. Chantal's strong communications background and success as a senior executive with leading global firms provides a firm foundation for her negotiation skills while her professional manner engenders trust and confidence in relationships.
STRESS-FREE PROFESSIONAL SALES PROCESS
Chantal is everything that the stereotypical Sydney real estate agent isn't! She's truly exceptional.
We initially engaged Chantal to act as our agent on the sale of one property, but were so impressed with the approach and the outcome, that we asked Chantal to also sell our home.  Chantal embodies the trusted advisor you look for when selling your most valuable asset - a rare quality in the real estate industry. 
Chantal brings decades of experience both internationally and locally across the marketing and real estate industries to deliver a hands-on, stress free and professional sales process end-to-end.  We cannot recommend her skill, professionalism, tireless hard work and good humour highly enough. Chantal is everything that the stereotypical Sydney real estate agent isn't! She's truly exceptional.
(E. Knight)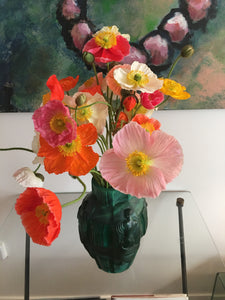 INTEGRITY, DISCRETION, EMPATHY, RESULTS
What differentiates Chantal from others is her uniqueness in terms of combining all the character traits you would ideally be looking for in an agent - integrity, discretion, empathy and being results driven – this, combined with excellent communication skills, maturity, experience and elegance. She is someone I will always trust with my property transactions and she will always do the right thing by you. 
Chantal's exceptional positive energy and momentum, no doubt, has its source by her being totally authentic and genuine.
(Hermann M.)


Chantal is my broker of choice. She is ethical, reliable, efficient and extremely effective.
(Philip Jacobson)